Name: JACK
Mobile: +86-15973535763
E-mail: info@ruoyicleantech.com
E-mail: jackairfilter.cleanroom@aliyun.com
Add: Room E1 on 3rd floor,Chuanyiyuan Building Y3, Yayuan Road Bantian street, Longgang district Shenzhen
whatsapp: +8615889792469

Product name : Pass box with air shower

Product No. : 2017619104832
Details:
Pass Box with air shower
is designed to minimize traffic and contamination entry into the clean room, enables parts, tools and other work items to be passed to room and from the room to outside. Unit acts as an air lock device preventing ambient air from entering, or clean air from exiting the clean room.

Features

※
Cabinet material: Cold plate coating powder/ SUS201/SUS304

※
Mechanical or electronic interlock

※
Double door is equipped with interlocked device so that both door cannot be openned at the same time.

※
With spray nozzles, motor
Applicaiton
Pass box with air shower is widely used in biotechnoligy laboratory, pharmaceutical plants, hospitals, food processing plants, LCD,electronics factory and so on.
Specification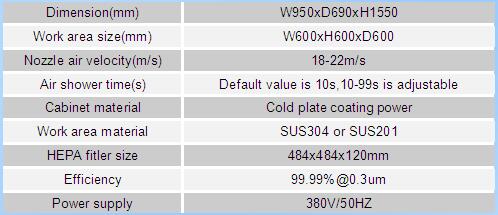 Products: